When a MEINEKE Car Care Center is switching from the existing point-of-sale system, MKey, to Tekmetric, we follow the process outlined below.
AutoVitals does not control the timeline on switching to Tekmetric, as that is defined by Meineke Corporate (Driven Brands) and the Tekmetric Team.
Enabling AutoVitals in Tekmetric
The first step in making sure you're ready to switch from MKey to Tekmetric is to enable the AutoVitals integration within Tekmetric:
From the hamburger menu in the top left, select Shop Settings
Within the Shop Settings menu, select the Integrations tab along the top
Select Manage on the AutoVitals tile (note, there are several companies listed. AutoVitals is listed toward the bottom)
Select Grant Access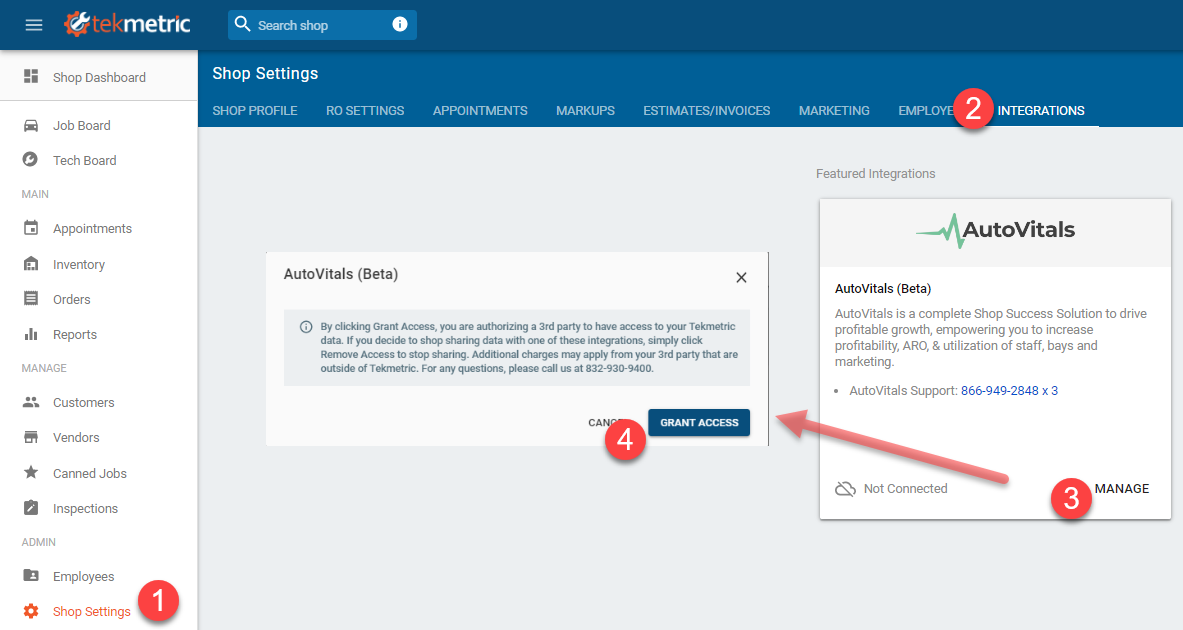 Migration Process
The integration MUST BE ENABLED (above) in order for AutoVitals to migrate you to Tekmetric. From there, here's what happens:
You work with the Meineke Support Team to submit your migration file to Tekmetric
Tekmetric completes the migration
AutoVitals completes the migration
Please contact Meineke support with any questions regarding the migration file process referenced above.
Post-Migration
Once the migration to Tekmetric has been completed in AutoVitals, you will receive an email with your new personal codes.
If you have any additional questions, please contact your AutoVitals Customer Success Advisor or contact our Support Team by clicking Submit a Request in the top right-hand corner of this page.