BayIQ now offers Email Blasts! You can easily communicate with your customers in addition to the automated emails and reminders they receive. Learn how to create and send an email by following the instructions below.
Note: Email Blasts are limited to one per day.
Step 1
Select Customers, then List Builder from the menu at the top of your dashboard.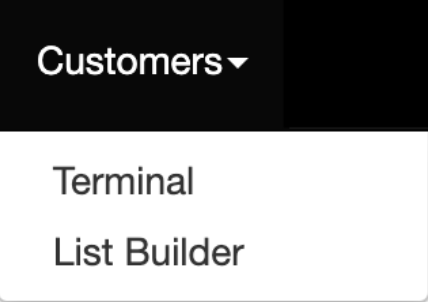 Step 2
Use List Builder to create a list of customers who will receive your Email Blast. View the List Builder guide for more information on creating customer lists.
Step 3
Once you've created a list of customers, select Send Email Blast in the top right corner of the page.

Step 4
Next, fill out the Email Blast fields to create your message. A preview of your email will display on the right.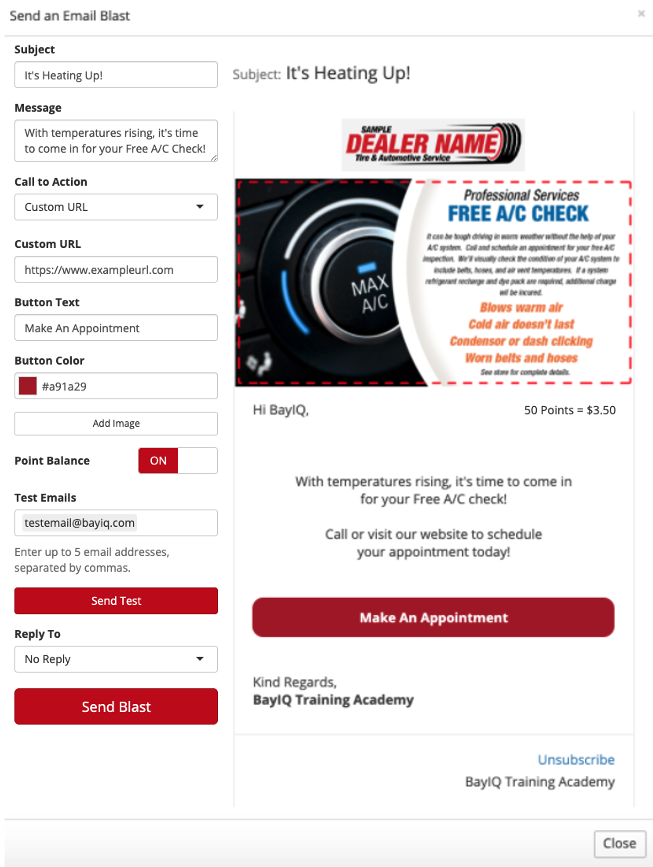 Subject Line
Keep your subject line short and simple. Avoid using too much punctuation, too many emojis, or words that create unnecessary urgency in your subject lines; Including these can trigger the spam filter in your customer's inbox. If all of your emails are urgent, none of your emails are urgent.
Examples:
DON'T MISS OUR SALE!!!!

Call Now!!!
Message
Add the body of your email to this field. All text will be centered, as shown in the preview on the right.
Include only what your customer needs to know in your email. The longer your email, the less likely your customer is to read it.
Call to Action
There are three Call to Action options for your email.
Custom URL

Login to Portal

No Call to Action
Custom URL
When using the Custom URL, add any url into the Custom URL field, prefaced by http:// or https://.
Then enter your Button Text, this will be the label on the button within your email. Finally, choose your Button Color or enter a hex code for the color you'd like to use.
Login to Portal
If Login to Portal is chosen, this link will direct your customer directly to their Rewards Customer Portal to view available rewards and service reminders.
For Email Blasts sent to non-rewards customers, this button will not be included.
Update your Button Text, to change the default label on the CTA button within your email. Finally, choose your Button Color or enter a hex code for the color you'd like to use.
No Call to Action
This option will not include a call to action button in your email.
Add Image
Select Add Image, then choose an image file from your computer.
Note: The image file must be a .jpeg or .png file. The recommended image size has a max width of 640 pixels, and a max height of 400px. However, smaller images can be used and will remain the size of the uploaded image. Large images will be resized to fit the email.
Point Balance
Selecting the Point Balance toggle will add the number of points and the dollar value of those points.
Example: 50 points = $3.50
Reply To
Enter an email address for replies from your customers. When a customer replies to an email blast, the emails will be sent to the email address specified here. Otherwise, select No Reply from the drop down menu.
Step 5
Enter up to 5 email addresses, separated by commas. Then select Send Test to send a preview of your Email Blast.
Step 6
Send your Email Blast by selecting Send Blast.
If you have any additional questions, reach out to our Support Team by clicking Submit a Request in the top right-hand corner of this page.