More and more shops have created a specific role, either called the production manager or foreman. This role is responsible for tech dispatching and sometimes also takes care of the inspection review, editing of the pictures and sending the inspection report to the Motorists.
The task manager settings allow you to assign specific tasks to the production manager role.
Table of Contents
The Production Manager's Features
Production Managers can reassign all tasks (even those assigned to others).

NOTE: If no Production/Proxy Manager is logged in the SA's are then allowed to assign themselves tasks from others.

Feature Specific Icon indicates when a Production / Proxy Manager is not logged in

NOTE: This is an indicator for SA's to assign tasks to themselves if necessary
Auto-generated tasks can be assigned to the Production Manager(s) instead of going to the default Service Advisor assigned to the RO. To learn more about auto-generated tasks click here.

NOTE: The production manager may be the person responsible for completing the task or be responsible for assigning them to the appropriate person in the shop to best manage the shop's workload.
How to Mark Someone as a Production Manager or Proxy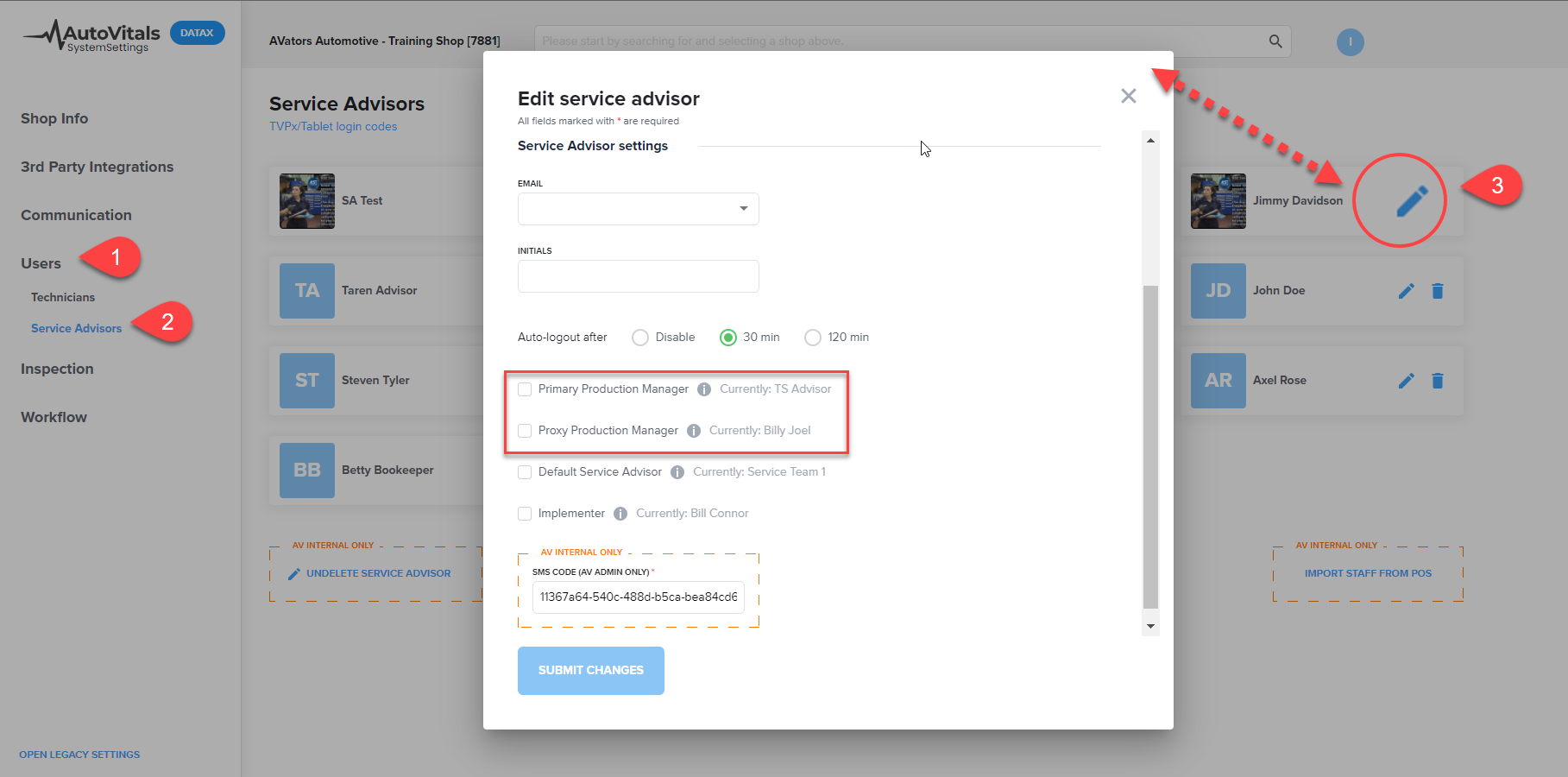 Go to Inspection Settings
Select the Service Advisor tab
Click to edit the appropriate service advisor's settings


There can only be ONE PM at a time. If this person is not online, the proxy PM takes over.
Frequently Asked Questions
-Why am I added to all the vehicle specific chats?
Production Managers and Proxies are added to all vehicle specific chats and are unable to leave those chats.
-Why am I not able to see or apply the Production Manager/Proxy?
Production Managers/Proxies are features only available in our Smartflow.X package.
-Why am I unable to assign a task to myself?
If there are Production / Proxy Managers assigned and logged in, reassigning tasks will need to be completed by one of them.
Related Articles