With BayIQ you can automatically solicit reviews from your customers after a service via text message or email. These reviews will go straight to your Google account and you'll be able to manage them within BayIQ to view performance and respond quickly.
Turning ON the Reviews Feature
If you are not using the Reviews feature yet, please see our article: Setting Up the Reviews Feature or reach out to us!
Sending Email & Text Review Invitations After Service
For each Store, you can select the number of days after service you want your customers to receive an email or text message asking for a review. Follow the instructions below to change your Invitation Delay.
Note: Most dealers set this at 2 or 3 days after service.
Step 1
Select Reviews, then Reviews Dashboard from your top navigation menu.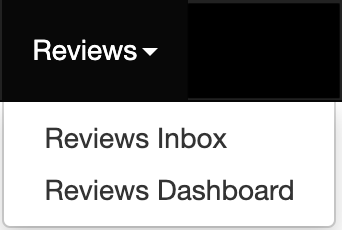 Step 2
Next, select your Market from the menu on the left, your Store(s), and then date range you'd like to search, then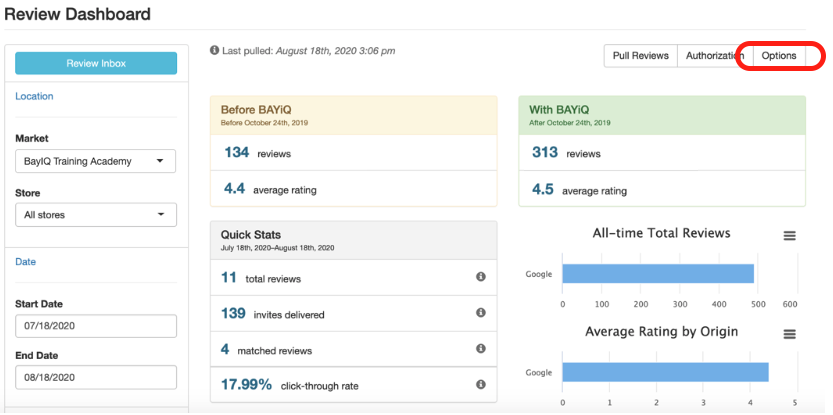 Step 3
Enter your Invitation Delay preference. This is the number of days after a transaction you'd like the Review Invite email or text sent to your customers.
Example: Your customer completed a transaction on Monday. Your Invitation Delay is set to 2 days. Your customer would receive your Review Invitation via email or text on Wednesday.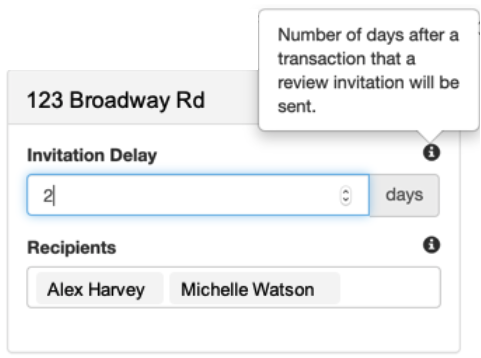 Note: Customers who have already received a Review Invitation email or text message within the last 6 months will not receive another one. Why, you ask? Well, if a customer comes back within 3-6 months of their last visit it's usually for a "re-check" and the customer it may be likely the customer is upset. Since we want to help ensure the most positive online reputation possible for our dealers, we do not send review invitations to the customer again within 6 months.
Step 3
Scroll to the bottom of the page and select Update.
Pulling Reviews
You'll notice an option in your dashboard titled Pull Reviews. While BayIQ looks for new reviews on your Google account multiple times a day and adds them to your Reviews Dashboard, you can select Pull Reviews to search for new reviews again at any time.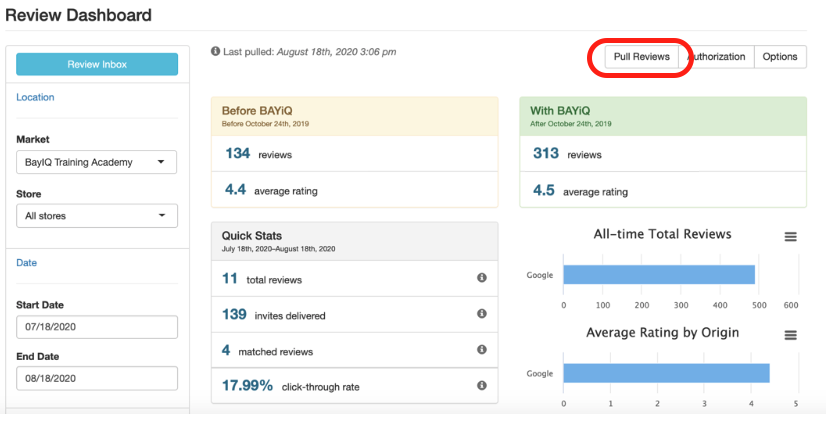 Email & Text Messages
When you have the Reviews feature and templates turned ON, ALL customers, both rewards and non-rewards, are eligible to receive the review invite email or text message.
How Does Sending Work?
We'll always try to send a text message communication first as customers are more likely to review your business from their phone.
If the customer does not have a valid phone number we will send an email instead.
If the customer has received a Review Invite email or text message within the last 6 months, we will NOT send an email or text message (see "Sending Email & Text Review Invitations After Service above").
What Do The Templates Look Like?
Learn more about viewing or updating your Review Invitation templates in our Help Center article: Preview Your Email and Text Message Templates.
Text message preview: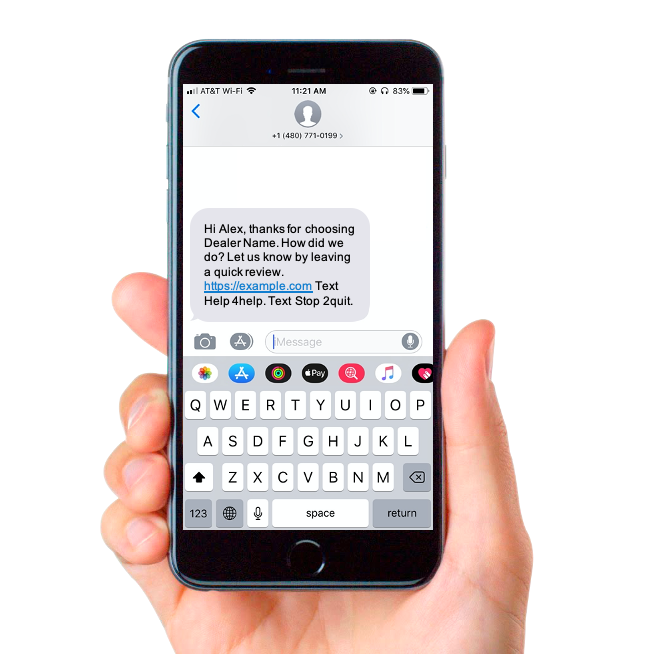 Email template preview: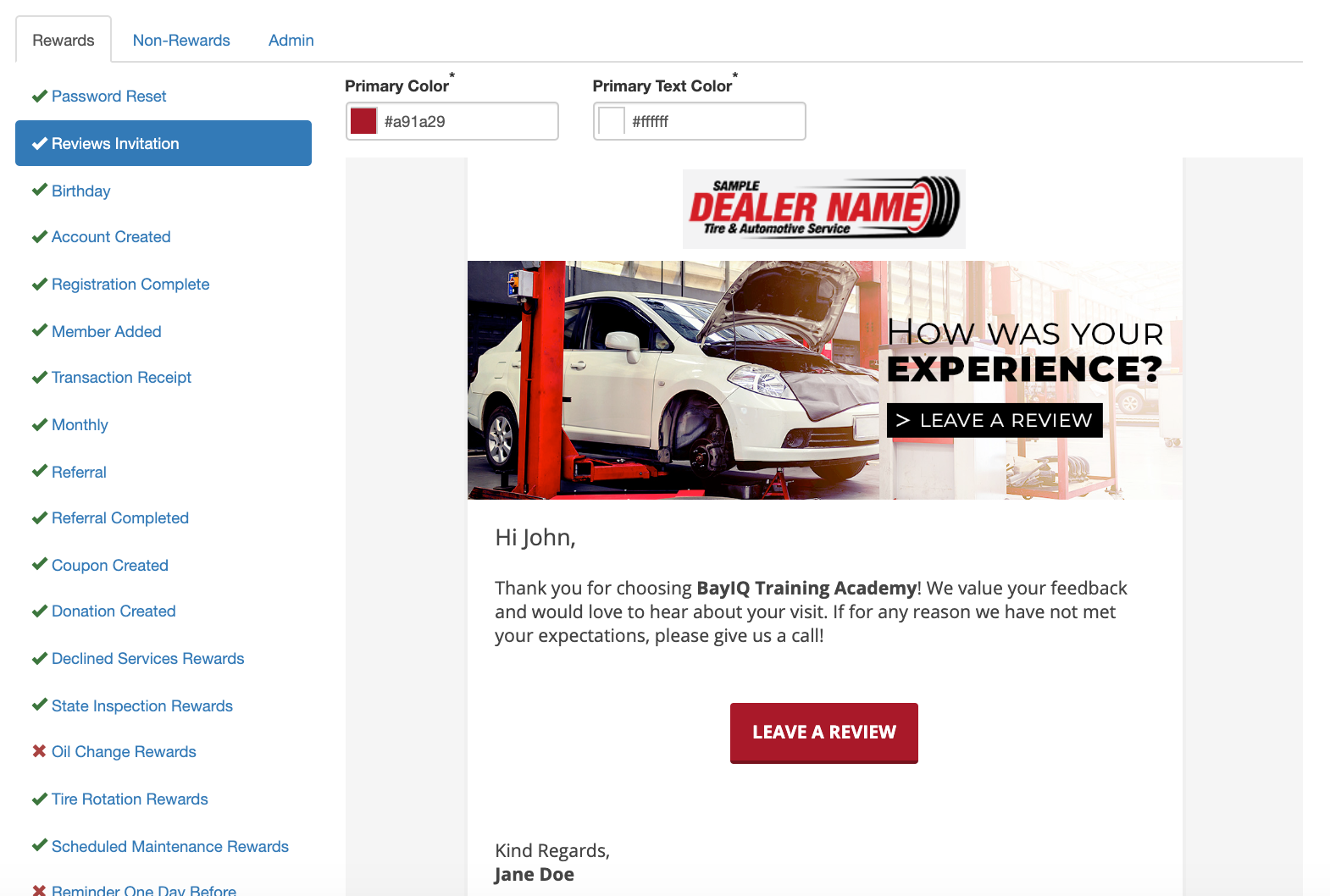 If you have any additional questions, reach out to our Support Team by clicking Submit a Request in the top right-hand corner of this page.