What's in this article:
Introduction:
Introducing the Motorist Research Time (MRT) icon on the vehicle tile. In the image below, you see that the customer has already looked at the inspection result for 379 seconds. The description of how this is calculated is below
(1), as the 20-minute timer for the SA to call the customer has finished counting down (2). This indicates to the SA to expect a well-educated motorist, ready to approve more work.
How Time is Calculated:
The software accumulates the time a motorist spends researching the inspection result on a mobile or desktop web page. Researching means that they scroll or tap on images and videos. If there is no motorist activity but the browser is still open or inactive (another browser tab is active), the time stops being accumulated after 10 seconds. This secures that only the active research time is counted.
The MRT is the single most important KPI to measure when it comes to work approved. Motorists, like all consumers, have gotten accustomed to the new buying behavior "We want to buy, not be sold". As consumers, we make decisions in our control and on our timeline. The MRT indicates how long a motorist has researched the results and has been building their list of questions. A service advisor responding to those questions is much more successful in getting work approved than a service advisor applying sales pressure on the phone. The benchmarker for good engagement is 240 seconds or greater
How to Use the Countdown Timer:
Once you send the inspection to the customer through email or text, the 20 minute timer will turn orange and begin counting down. 20 minutes allows the customer to review the educational content of the inspection results without sales pressure.

Once at zero it will start flashing. This indicates you should call the customer if they have not yet called in.

Click on the icon to indicate: "Left voicemail", "I called the customer", "Customer called", or "Reset Timer"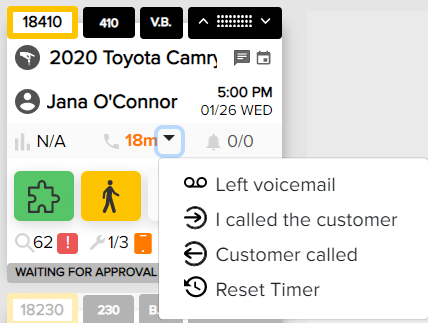 Frequently Asked Questions:
What primary Key Performance Indicator (KPI) is this metric associated with in the Business Control Panel?

Average Repair Order (ARO)

What is the point of this metric showing on the vehicle tile?

Being able to see the Motorist Research Time on the vehicle tile is a good indicator of how informed a motorist will be. A higher MRT is also closely related to a higher ARO.

Does this metric show anywhere else in AutoVitals?

Only on the Vehicle / Repair Order tile unless you want an average which would be in Business Control Panel.


Why is the countdown timer not starting?

Make sure the inspection tab is checked and an actual inspection has been completed and sent. If only the work order notes and images were sent the countdown timer will not begin.