Call Campaigns provide your shop with the ability to provide a more personalized touch when communicating with motorists. Have a Service Advisor reach out to your motorists to thank them for recent visits, send reminders for services due or overdue, and build trust with your clientele through education and inspection report discussion.
Table of Contents:
Key Benefits
Build rapport with your motorists by offering them the insights they need about parts or repairs
Follow up with motorists after visits, for services or recommendations and if any recalls occur to ensure positive experiences from the shop
One centralized repository for customer data including recommendations follow ups and previous service history for easy management and scheduling
Product Features
Create Campaigns to target specific audiences
View previous RO's to provide vehicle specific recommendations and educational tips
Take action by creating notes in the customer profile while confirming their appointment
General Functionality
How to Navigate to the Call Campaign
Click on the three lined "hamburger" menu
Select the CRM tab
Hit the Call Campaigns button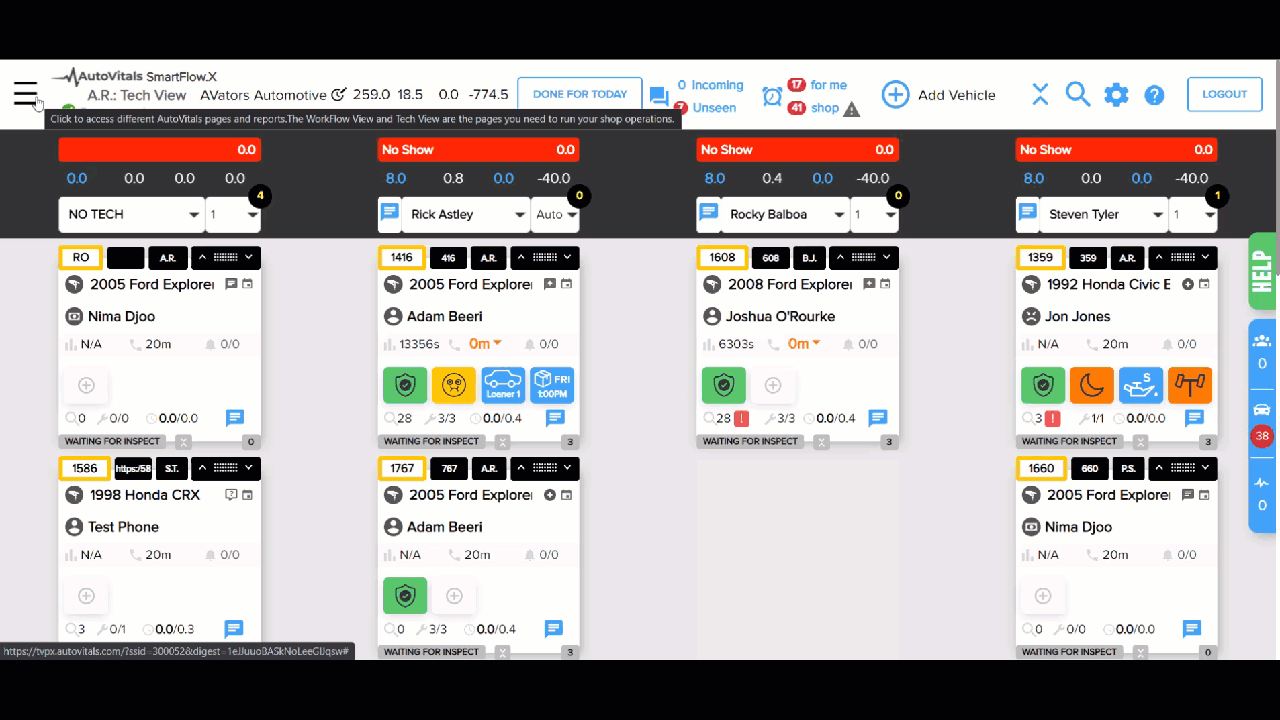 Services Due/Overdue Call Campaign
Refine your Call Campaigns by searching for motorists that are due in for services, overdue for service, or search for motorists who have received their last service reminder.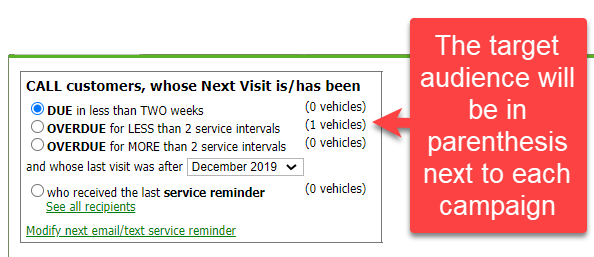 Follow-up Call Campaign
Create Follow-up calls by filtering the audience for:
recent visits days ago and/or the minimum amount spent on their past visit
recent visits weeks ago and/or the minimum amount of recommendations made on their past visit
who had requested a callback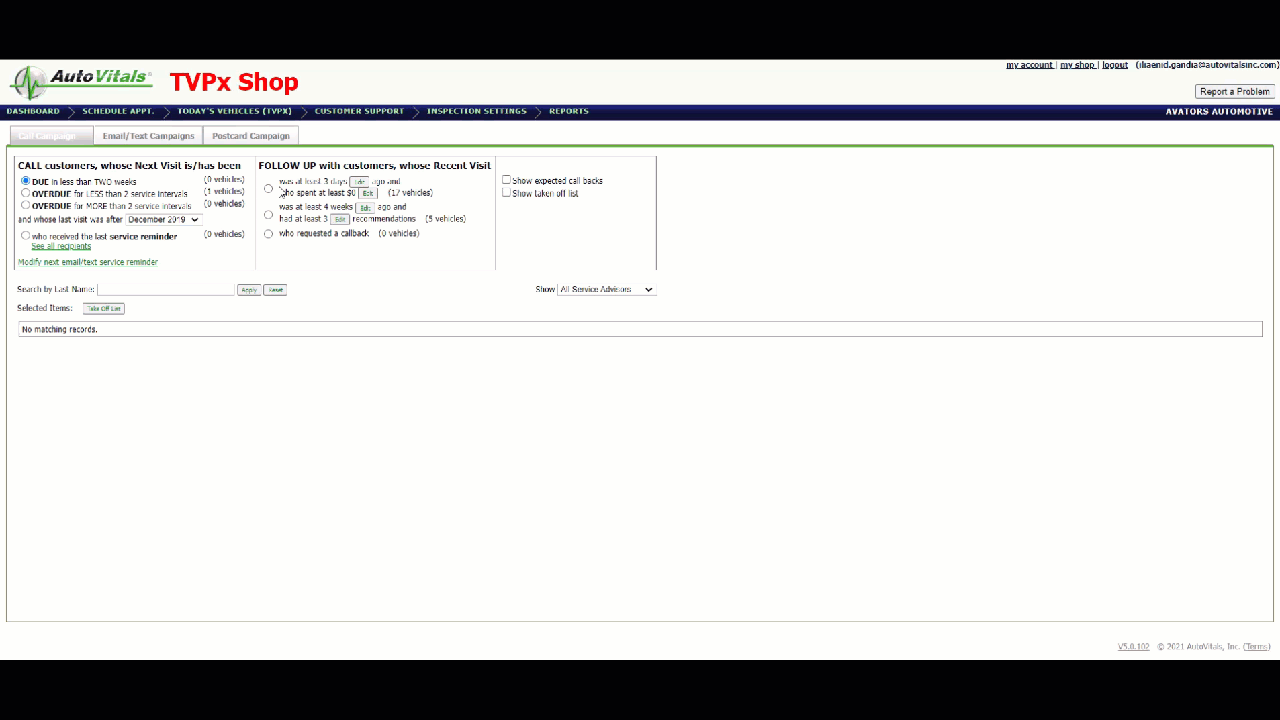 Refine Call Campaigns
Narrow down the audience to your call campaigns further by filtering with additional conditions:
Show Expected Callbacks
Show Taken off List
Search by motorist's last name
filter by Service Advisor
Select items to Take off List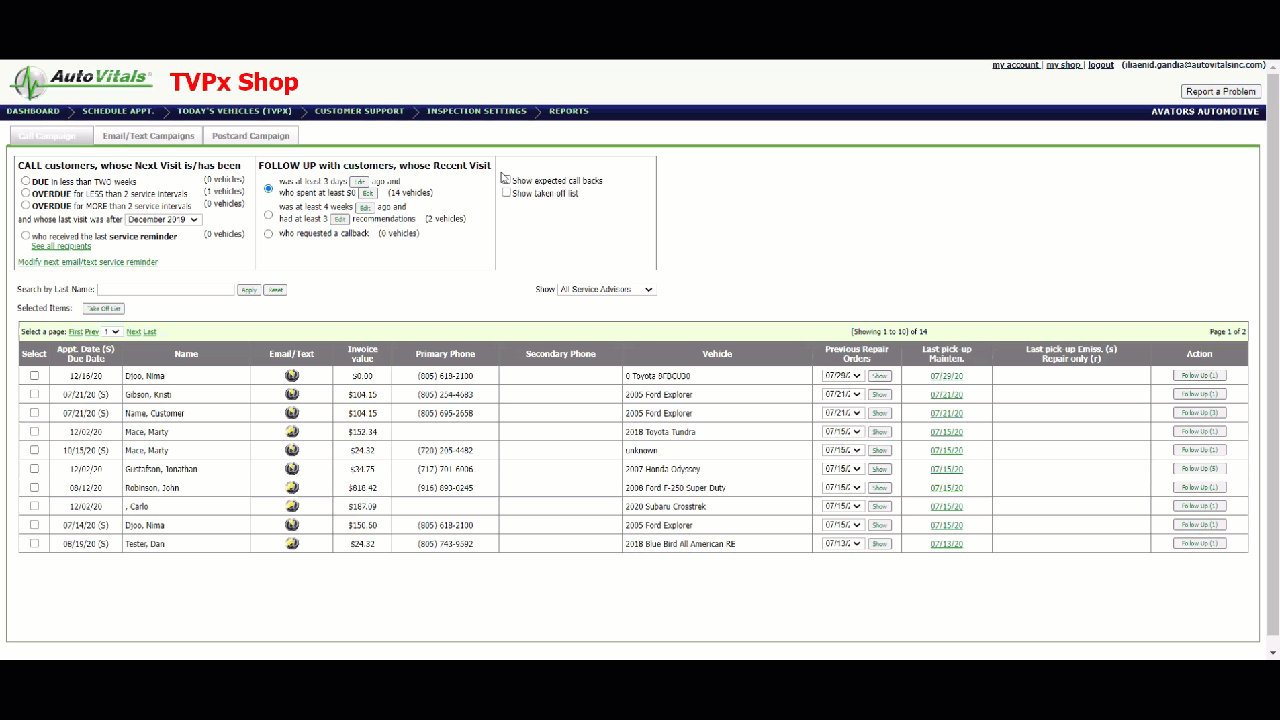 Recall Icon
Mentioning recall information always gets a motorist's' attention and is useful to know when calling out.
A blank space indicates there has been no recalls for this vehicle
A gray RC indicates the recall was issued over 1 year ago
A red RC indicates there has been a recall in the last year
Communication Icon
In the Email column, you have a customer communication icon that shows the available avenues of communication with that customer.
To edit a customer's email and text message settings, simply click on the icon. This will pop up a screen where you can enter or edit an email, manage their customer account, as well as enroll customers for text messages.
You will notice that different customers have different icons under the email column. Each signifies the customer's communication settings.
A blank yellow circle means no emails or text messages.
Any yellow @ sign means the account has not been activated. A solid yellow @ sign means the account invitation email has been sent.
If the yellow @ sign is spinning, the account invitation has not been sent.
The solid grey @ sign means the account set up has been complete.
A red "X" through a Blank Yellow Circle means the customer has been marked for "No Marketing".
A red exclamation point over an @ sign means an email sent to this address did not go through.
The T icon means the customer also has Text Messages set up.
Previous Repair Orders
In "Previous Repair Orders", we see last drop off maintenance, and last repair or emissions only visit. You can view previous ROs should the customer have questions on their past visits. Click Show to see jobs done, date, invoice value, inspection results, and more.
Once you click Show, you will see the following info
Action
Here, in "Action", is where you will record the results of the call.
Follow-up: The number you see next to follow up is the number of recommendations. This can be used to prioritize calling customers who have the most recommendations. Click on "Follow Up" to open the pop up.
Commit: Use this feature to call motorists before their scheduled appointments to remind them of their upcoming appointment and commit them into your shop's calendar. Click on "Commit" to open up the pop-up.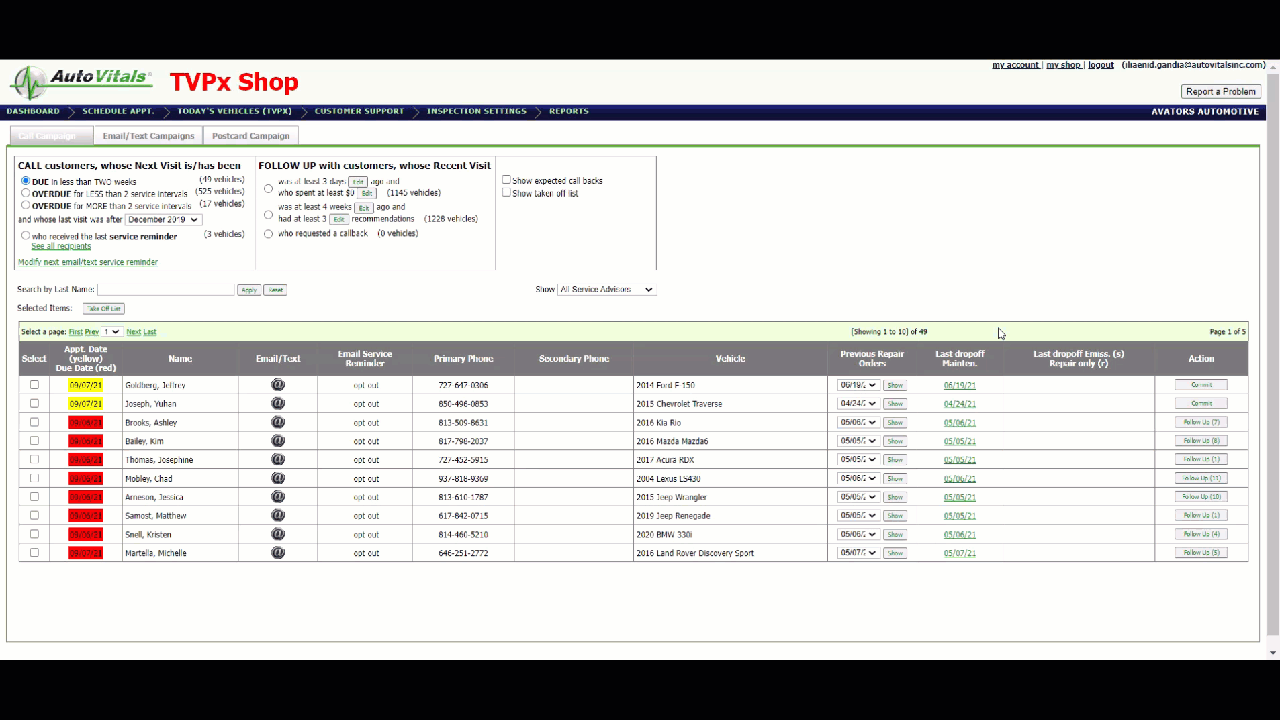 Let's review the pop up when you click on an "Action":
If the customer does not want to called and/or emailed anymore, just note it here and hit Submit.
When leaving a voicemail, click 'I am expecting a call back'. This will remove them from the list so you don't keep calling but you can still find the customer on the Expected Call Back List.
If you finish the follow up, note it here. This will also remove the customer from the list.
Here you can view and edit customer info for scheduling an appointment. You will notice the email icon is here so you can edit the email as well. You can also click the pencil to leave a note.
Recommendations for the next visit are listed here. You do not need to mention these unless the customer asks.
Schedule an appointment. This will send an appointment confirmation to the customer and show the appointment on your shop Google Calendar.
Frequently Asked Questions
Why is my due/overdue list generating a low audience count?

In order for a motorist to receive a service reminder, they must have a previous maintenance visit be due for service in the next four weeks or overdue for service for less than two service intervals. Motorists that have an upcoming appointment scheduled are not included as well as motorists that have not already received 3 service reminders.
Related Articles
The Campaign Manager