What's In This Article


What types of Service Reminders are sent to motorists?
Three types of service reminders exist in AutoVitals:
Maintenance Reminder: Triggered when the vehicle is due for regular maintenance service (i.e. Lube, Oil and Filter Change) based on vehicle's last maintenance visit date / mileage, configured service interval and expected annual mileage.
Repair Reminder: Triggered when the vehicle has a specific recommended service due. The recommendations can come from the vehicle's last inspection or your PoS. If a vehicle is due for regular maintenance and specific repair recommendations, the Maintenance Service Reminder will be sent and include all recommendations due.
Emissions Reminder: Triggered when the vehicle is due for an annual or biennial state emissions or safety inspection.
How are Maintenance and Emissions visits detected?
When you were onboarded for AutoVitals CRM the canned jobs used for maintenance, emissions inspections and safety inspections were identified in your PoS. AutoVitals detects these jobs on past and future repair orders in your PoS so these visits are automatically identified. It's very important that you notify your AutoVitals product advisor if any new canned jobs are created for maintenance or state inspections so your configuration settings can be updated to ensure that AutoVitals can correctly detect all maintenance and state inspection visits.
How is the Next Service date calculated?
The date of the next recommended maintenance visit is calculated from the date and odometer of the last maintenance visit, the service interval, and the annual mileage of the vehicle. The annual mileage is calculated based on the last 2 completed visits or the shop default value is used. In order to determine the correct Next Service date, AutoVitals needs to be able to detect all maintenance visits, including past maintenance visits.
Service Reminder Settings
How are Service Reminders enabled?
Please contact your Autovitals product advisor if you wish to enable / disable any type of service reminder.
Change Service Reminder Frequency
By default service reminders are sent out on the 1st and 3rd Monday of every month for vehicles due for service in the next four weeks or overdue for service for less than two service intervals.
Reminders for the same overdue visit are sent until the customer either schedules an appointment, opts out of service reminders, or the vehicle is more than two service intervals overdue.
The frequency Service Reminders are sent and the maximum number of service reminders are configurable in the 'Customer Communication Settings' tab on your 'My Shop' page: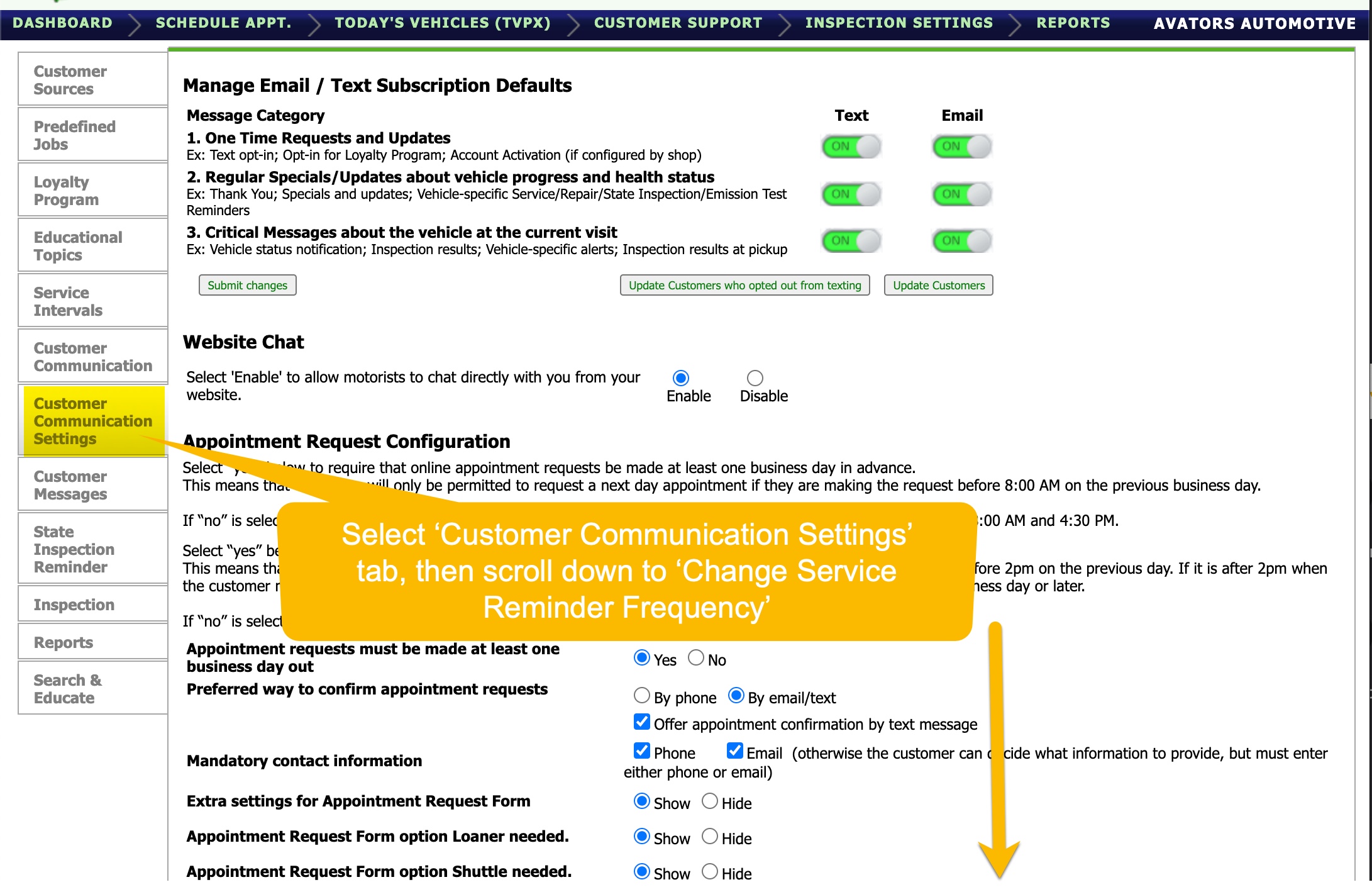 Repair Service Reminder Settings
The settings used to determine the sources for specific repair reminders are located in the 'Predefined Jobs' tab on the 'My Shop' page under the section 'Recommendations for next visit'. These settings allow you to determine if recommendations should come from: inspections or your PoS. Depending on your PoS you may see different options available because not all PoS support both declined jobs and vehicle recommendations.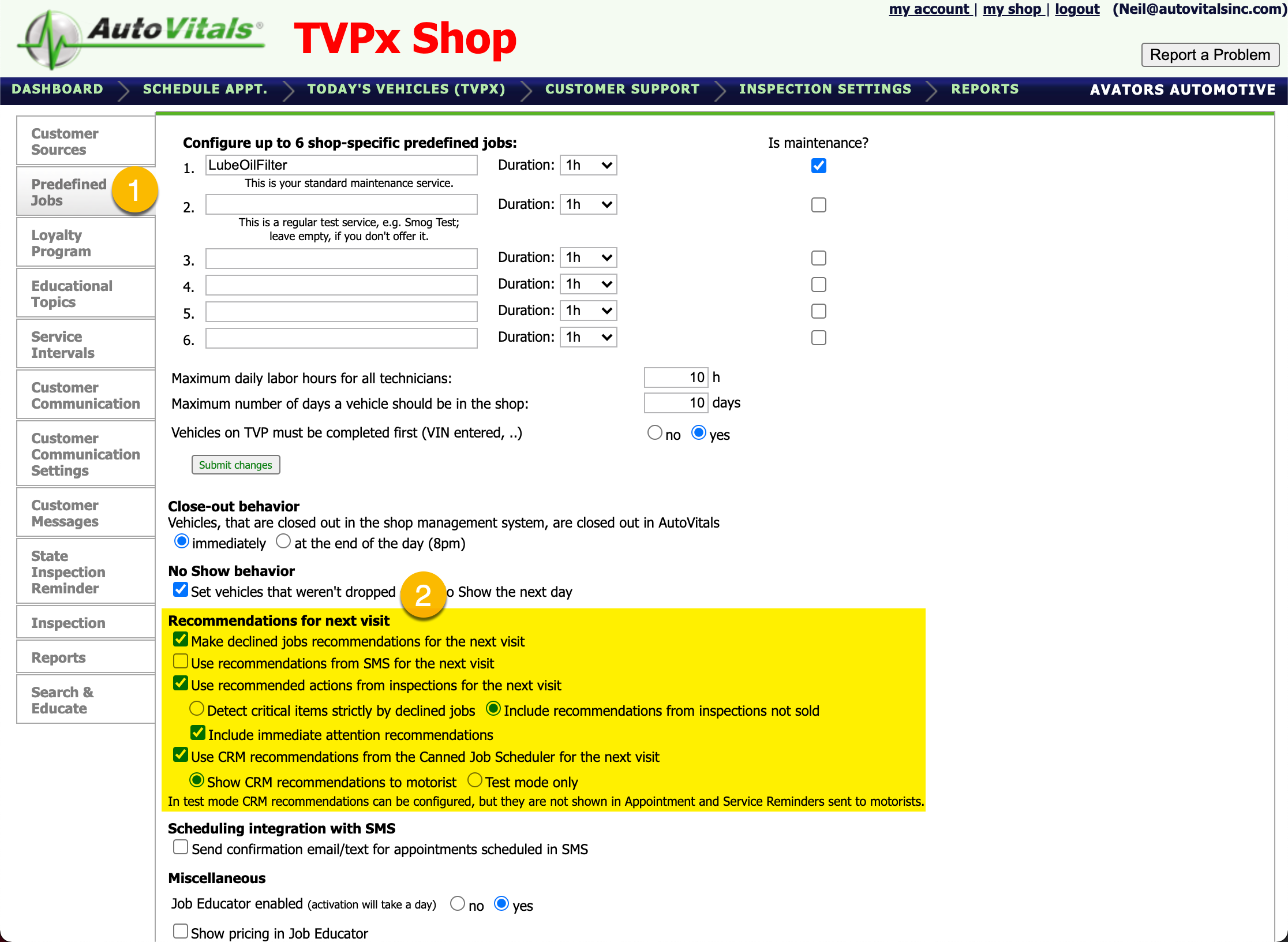 State Inspection / Emissions Test Service Reminders
Select the 'State Inspection Reminder' tab on the 'My Shop' page to configure and enable service reminders for annual or biennial state inspections / emissions inspections. You will need to select the canned job(s) from your PoS that are used for these inspections so Autovitals can process your service history and identify motorists with past visits who are coming due for their state inspection.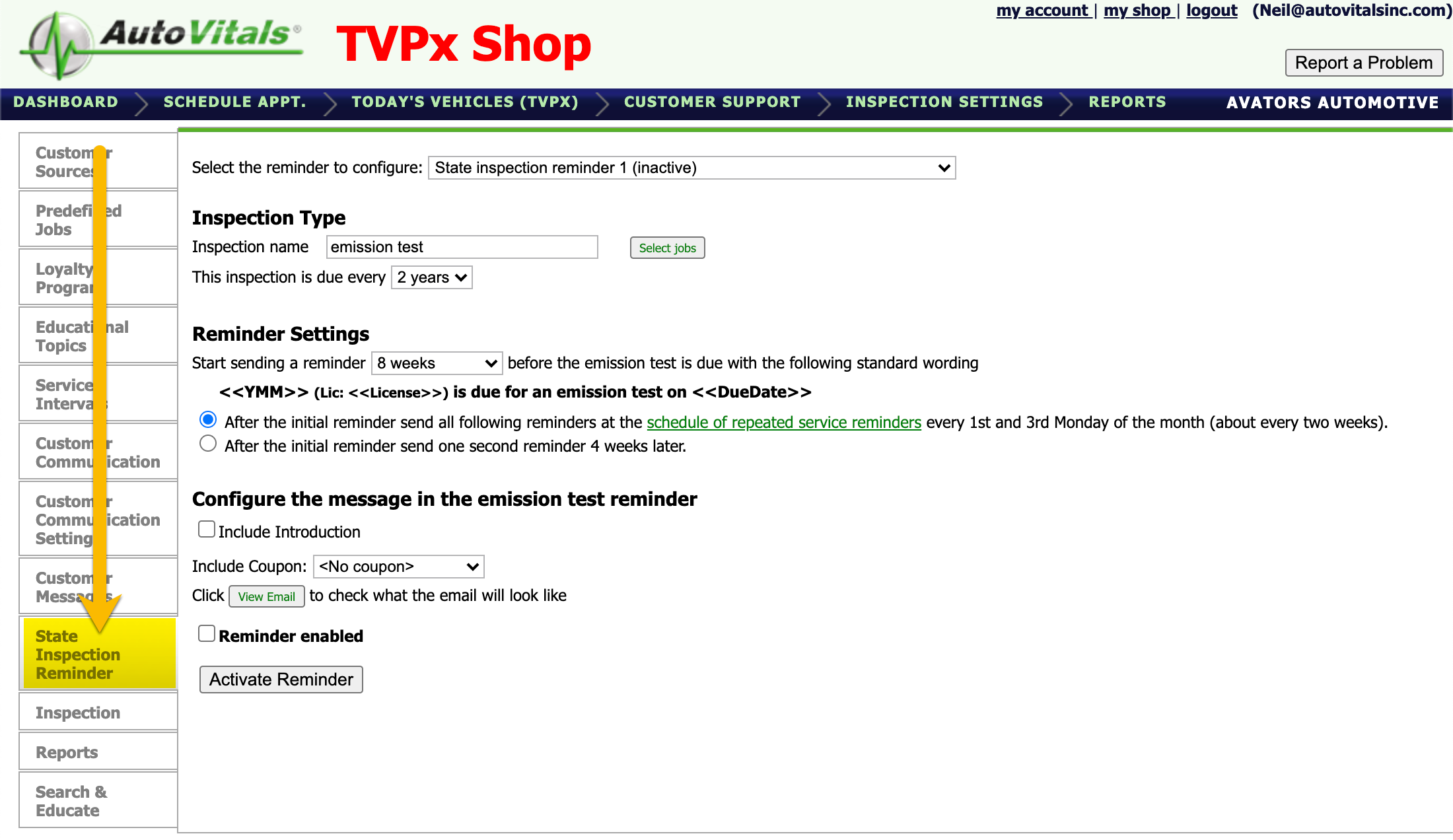 CRM Next Visit and Exit Scheduling
From your Todays Vehicles Page (TVP) you can look up open recommendations for current or previous visits on the 'CRM Next Visit' section of the Work Order window. Before closing out each RO in your PoS, please review the CRM Next Visit tab to ensure that the visit type is set correctly, the next service date is correct and all specific repair recommendations are correct.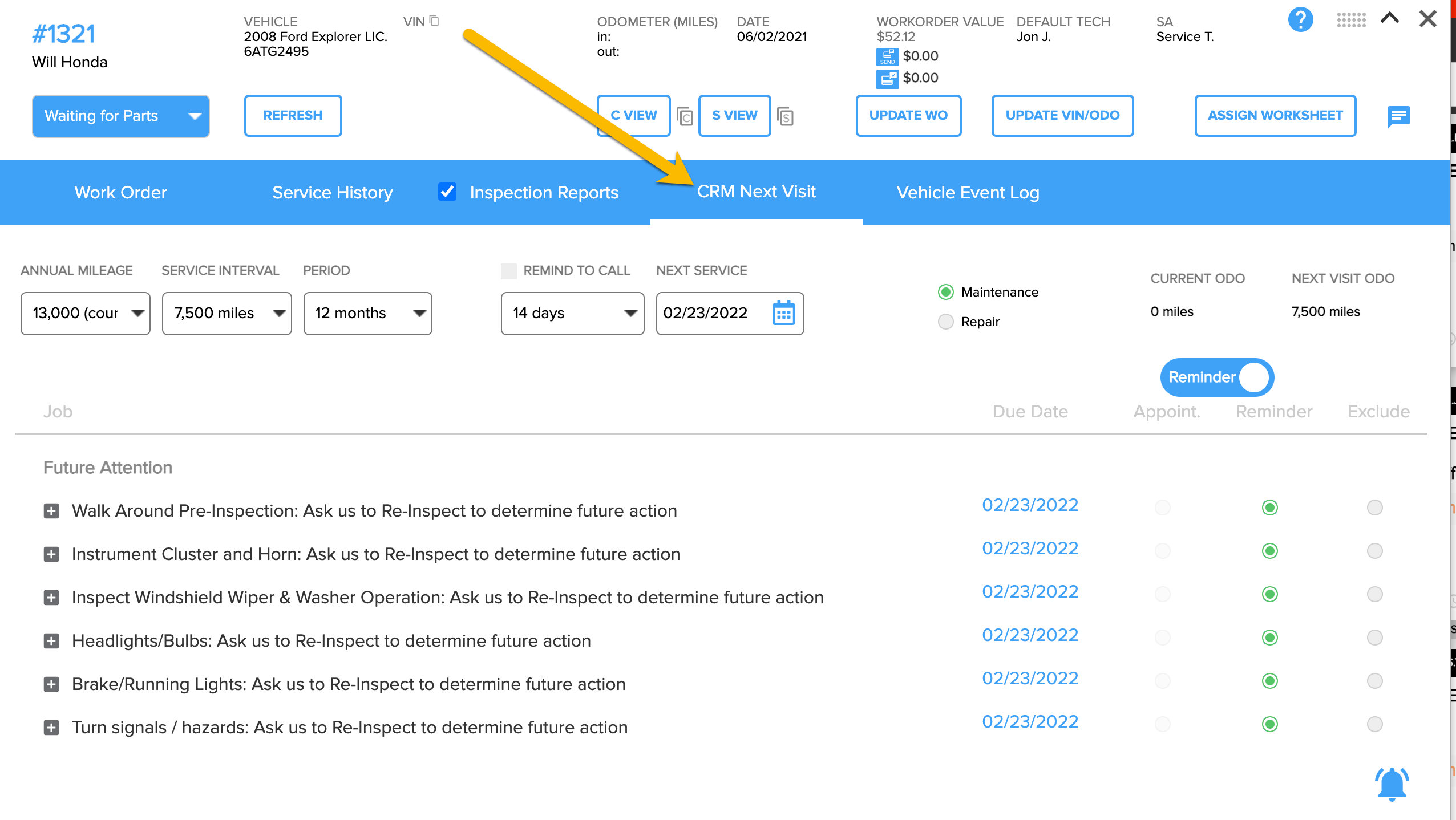 CRM Next Visit shows all recommendations for the vehicle from all enabled sources so you can see what specific recommendations will appear on the next service reminder. The 'NEXT SERVICE' date will configure when the vehicle is due for it's next Maintenance Visit. TIP: If only the 'NEXT SERVICE' date is modified the vehicle will only receive a service reminder when it is due for it's next maintenance visit so if the vehicle has never had a maintenance visit before then no service reminder will be sent. To trigger a service reminder to be sent about a specific repair recommendation without a previous maintenance visit, manually set the 'Due Date' for that specific service.

Here is the link for how the Nex Visit Date is calculated: CRM Next Visit Date Calculation on TVP.X
Service Intervals
While you can adjust the settings above, if there is anything filled out in this area of settings, it will override what is in the previous section:




To start: Navigate to Shop Settings
1). Click Service Interval
2). Here you can add a new service Interval
3). Edit a service interval
4). here you can choose which specific interval to edit
5). You can choose to add a new interval here