BayIQ's Customer Return metric shows you how many retail customers completed a transaction after having received one of the following emails in the past 90 days:
Declined Services Rewards

Scheduled Maintenance Rewards

Oil Change Rewards

Tire Rotation Rewards

Monthly Promotions

Birthday
State Inspection
To view this metric, visit your BayIQ homepage. This is the first page you see when you log into your dashboard or can be found by selecting your logo in the top left corner of any page.
First, select a date range at the top to view how many customers visited during this time.

Next, view the Customer Return figure in the bottom right corner of your screen. This will show you how many customers came back to your shop and completed a transaction after receiving an email within the last 90 days.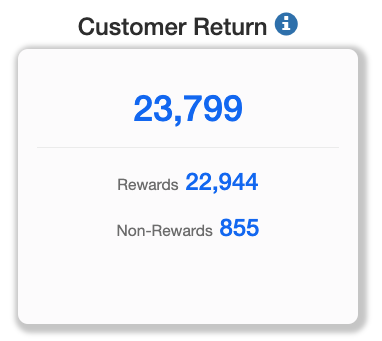 Here's an example using the date filter shown above, 4/01/20 - 07/08/20.
Your customer came in for service on 4/15/20. Looking back 90 days, we see this customer received an Oil Change Rewards email on 02/01/20. This customer would be counted in the Customer Return figure.
If you have any additional questions, reach out to our Support Team by clicking Submit a Request in the top right-hand corner of this page.