Once you've created and sent an email blast, view your performance results using the Email Blast Report.
Step 1
Select Reporting, then Email Blast Report from the top navigation menu.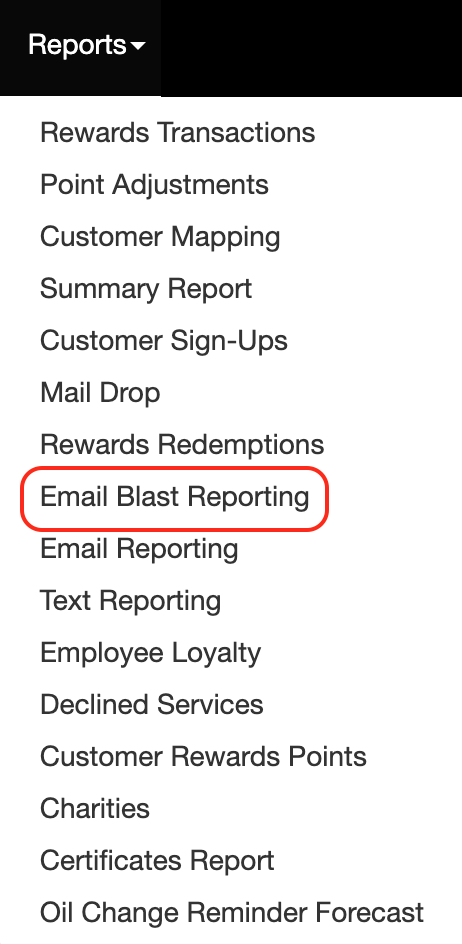 Step 2
Use the filters on the left to select your Market, Time Frame, and Email Subject line or all email subject lines. Select Update to generate your report.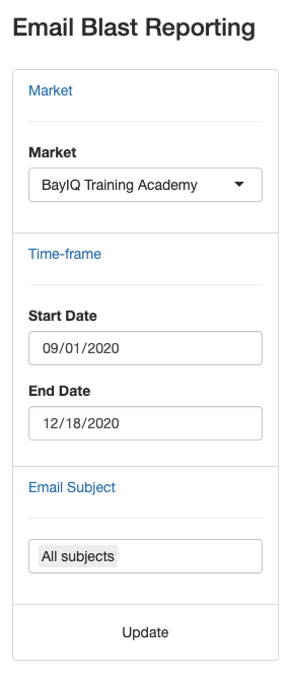 View Your Results
Your email blast report will separate the results by subject line and provide the following metrics.
Sent - the number of addresses sent
Delivered - the number of emails that reached an inbox
Open - the number of emails opened
Clicks - the total number of emails in which a link was clicked
Dropped - the email was not delivered for spam reasons or the email doesn't exist
Spam Report - the recipient reported the email as spam
Bounces - the email was undeliverable
Unsubscribed - the recipient unsubscribed from further emails
Select Export All to download the results for all email blasts sent in your filtered time frame.

Details
Select Details to view a list of customer's the blast was sent to, their contact information, the most recent event, and when the event occurred.
Email events show the customer's last interaction with the email, i.e. opened, clicked, bounced, etc.
Select Download a .CSV to download the results.

If you have any additional questions, reach out to our Support Team by clicking Submit a Request in the top right-hand corner of this page.