Promotions are a great tool to entice customers to come back to your business for a service and let them know about any rebate opportunities for their purchases. This article will walk you through how to create a new promotion.
Create a Promotion
Step 1
To create a promotion, select Marketing from the menu at the top, then Promotions.

Step 2
Select Create.

Step 3 - Fill out your promotion details
Name - this is the title your customers will see for your promotion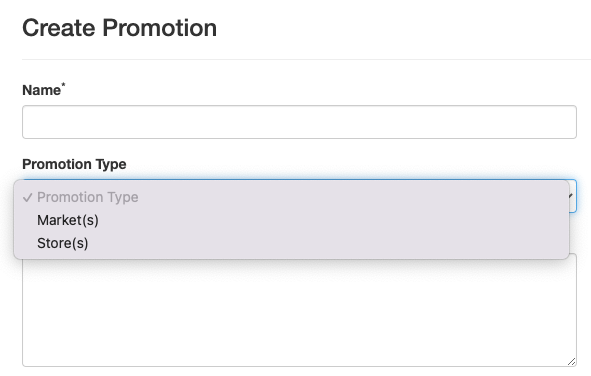 Promotion Type
Select Market(s) to create a promotion for all of the stores in your market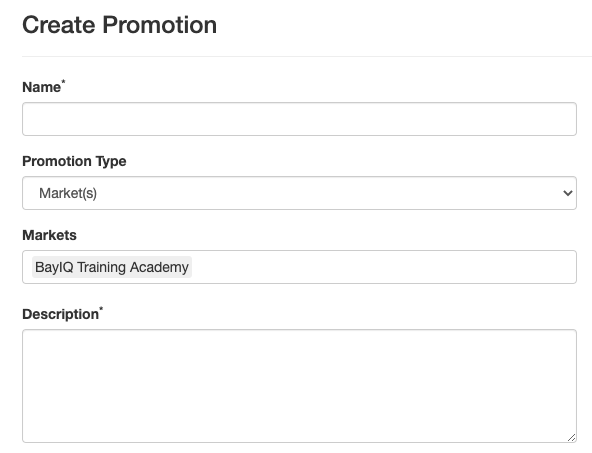 OR select Store(s) to choose specific store(s) in your market from the drop down menu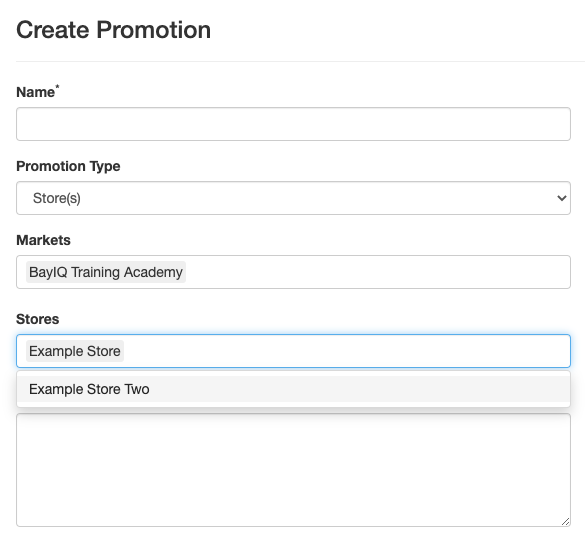 Description - your customers will see this description underneath your promotion title
Image - select an image from your computer
Need Help with Images? View some of our examples here!
Start date - the date your promotion begins
End date - the date your promotion ends
Value - select a value for your promotion using either a dollar amount or percentage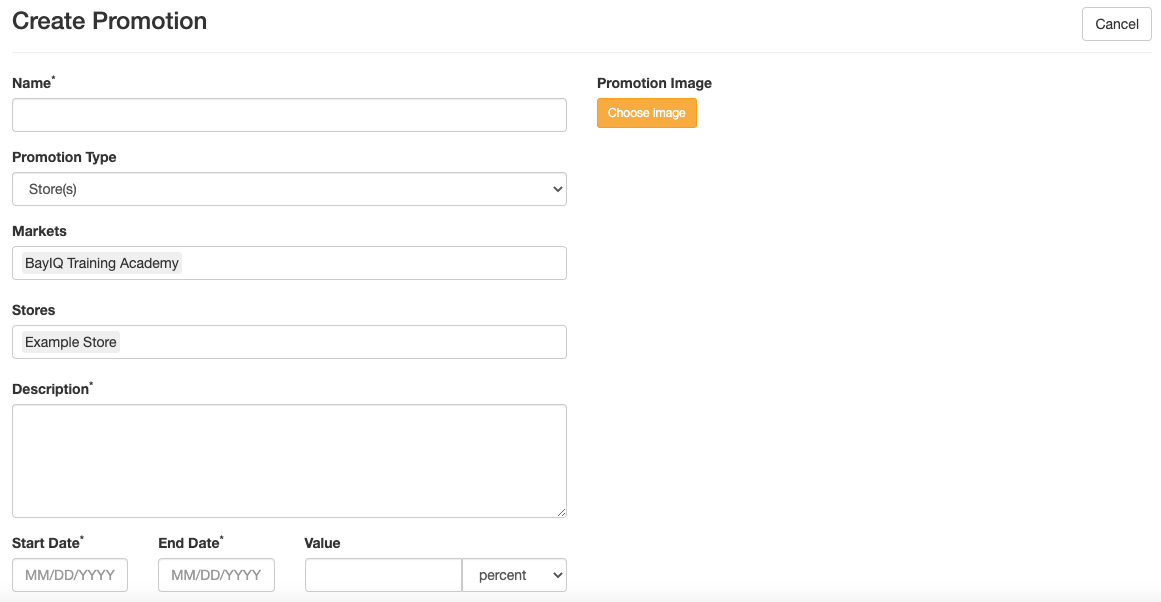 Vendor - if this promotion is specific to a vendor, select the vendor from the drop down menu. Otherwise, select Non-Manufacturer
(Optional) Manufacturer Rebate URL - link your customer to the rebate information if applicable

Active - use the toggle to turn your promotion on now or come back later to enable.
(Optional) Persistent - selecting the Persistent toggle will allow your customers to redeem the same promotion again and again
Choose where promotions are displayed
Use the toggles under Visibility to indicate where your promotion is displayed.
Promotion Center

- Your Promotion Center is a list of your active promotions. It is shown in your customer's Rewards Portal, and can be shared on your website via an iframe, or direct URL.

Email Templates

- turn the toggle on to display your promotion in your customer emails. This includes your monthly promotions email as well as all reminder emails.

POS - turn the toggle on to display your promotion in the rewards menu of your POS.

Learn more about how customers view promotions here.
Note: If your point of sale is fully integrated with BayIQ, the promotion will be displayed in your customer's available rewards, even if the promotion is disabled in the promotion center or email templates.
Step 4 - Add any additional rewards
The Points Multiplier, Add Bonus, and Add Points options are used to give your customer additional rewards when using a promotion. Select your Points Multiplier from the drop-down menu or check the Add Bonus and Add Points boxes to populate your selection choices.
Examples:
Purchase 4 Tires - Get a Free Oil Change

Receive Double Points on Purchases in March

100 Free Rewards Points with Brake Service

Step 5 - Fill out the Applies To fields
If your point of sale system is fully integrated with BayIQ, meaning you are able to access and redeem rewards directly within your point of sale, skip the "Applies To" portion of creating a promotion and move on to Step 6. To apply your promotion to an invoice, select the promotion from the BayIQ rewards menu in your point of sale.
For non-integrated BayIQ customers, complete the following:
Payment type - limits the promotion to work orders where the invoice total is between the minimum and maximum values specified.

Example: "Receive double points on purchases of $100 or more"

Set minimum spend to $100 and add a points multiplier (Shown in Step 4)

Line Item - Enter all or part of the line item description in this field

Auto Apply - this field

must

be enabled to automatically apply promotions to invoices that meet the criteria specified in this promotion.

Step 7
Click Save when finished.
If you have any additional questions, reach out to our Support Team by clicking Submit a Request in the top right-hand corner of this page.