When running a promotion, you can choose where to display the promotion to your customers - in emails, your promotion center, neither or both.
Additionally, you can hide promotions from displaying your customer's available rewards list within your point-of-sale system. A dealer may want to do hide promotions in their POS which do not need to be applied to a customer's invoice, such as financing options and mail-in rebates.
These settings are configured when creating or editing a promotion, using the Display In settings. Follow the steps below to update where your promotion is displayed.
Step 1
To create a promotion, select Marketing from the menu at the top, then Promotions.

Step 2
Next, select an existing promotion from the list or select Create to build a new promotion. Whether you're creating or editing, the following window will display.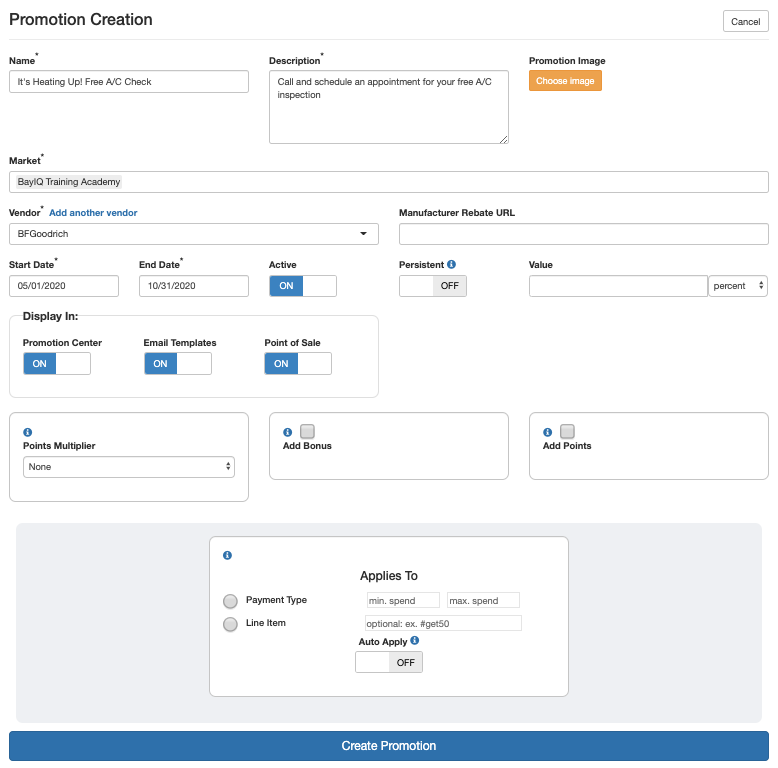 Learn more about creating and editing promotions.
Step 3
Use the toggles under Display In to indicate choose where your promotion(s) are displayed.
Promotion Center - Your Promotion Center is a list of your active promotions. It is shown in your customer's Rewards Portal and can be shared on your website via iframe an iframe or direct URL.
Email Templates - turn the toggle on to display your promotion in your customer emails. This includes your monthly promotions email as well as all reminder emails.
Point of Sale - switch the toggle off to hide the promotion in your point-of-sale system. This means when the BayIQ rewards button is selected in your POS, the promotion will not be displayed in the menu.

Scroll to the bottom of the window and select Create Promotion or Save to update an existing promotion.
Learn more about how customers view promotions here.
If you have any additional questions, reach out to our Support Team by clicking Submit a Request in the top right-hand corner of this page.