AutoVitals' digital communication tools enable your team to reach customers in a convenient way that leads to increased trust. Through the digital communication tools, you can send your customers inspections results, general messages, automated workflow status notifications, pick up notifications, and more.
This increased transparency, which comes without extra effort from your service advisors results in increased customer satisfaction and retention.


Table of Contents:
How do you send an inspection to a customer?
Click View from the Work Order Popup Window

Click Send from the Inspection Results Window

Choose whether to send as an email, text message, or both and click Send Message

How do you email/text a customer a general message?
Starting at the Vehicle Tile
Click on the customer communication icon

This opens the conversation center which promts you to start a new conversation if there is no prior conversation history OR


if there was already a conversation started, just click on the message to reply to it OR
To start a new conversation from the Conversation Center enter the customer name (1), click new (2), select the customer from the list and click new (3)
How do you email/text a customer whose vehicle is not in the shop?
Starting at the Vehicle Search
Go to the search for vehicle window
Search for the customer by last name, previous RO number, or license plate number
Click the + symbol next to their last name
This opens the conversation center which allows you to:

respond to a previous conversation by clicking on the message you want to respond to OR
Starting at the Conversation Center
Search for the customer name

Respond to a previous conversation
How to keep your customers updated through automated workflow notifications?
You can automatically send updates to your customers when a vehicle moves workflow steps. This ensures that your customer is always updated on the progress of their vehicle without you taking the extra effort to update them. Common uses of this automatically send inspection reports once the vehicle is moved into the Waiting for Approval workflow step or send a message letting the customer know their vehicle is ready for pickup when the vehicle moves to Waiting for Pickup.
How do you set expectations about communication at drop off?
Recommended drop-off talking points:
We perform comprehensive digital inspections on every vehicle we service
Let me show you an example inspection
We are technologically advanced
Customer safety and education is our number one concern
We will inform you of recommendations due now and what can be done later
Photos and video on inspection
Confirm or ask for email and mobile number
I will call you about ­20 minutes after I email the inspection to review it with you.
Would you prefer to be notified by text at pick up?
Download the full drop-off script here.
Frequently Asked Questions
What do the icons mean in the conversation center under conversation status?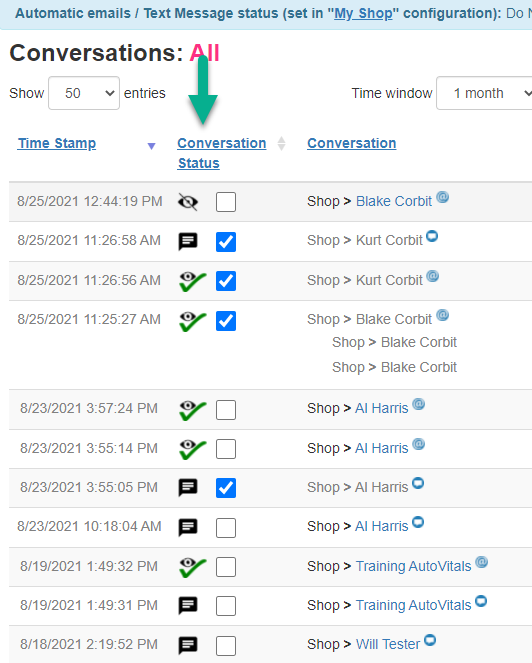 Message not seen yet
Text message
Message seen
Text Message Opened
Unseen Replies
What do the icons on the top of the TVP mean related to the conversation center?
The top number [1] represents the number of unread, by you, incoming messages.
The bottom number [2] represents the number of unread, by the motorist, outward messages.

How can you send a message to a customer that has never been in the shop?
In the Conversation Center, type the customers name in the search bar and then click 'Search'

From there, select the 'New' button that appears next to the 'search' button

You can then fill out the information of the person you wish to message