We've made some changes and hope you'll read our release notes below. As always, please contact with any questions you have by email at support@autovitals.com or click here to open a ticket with the team.

Enhancements - What's New?
Ability to define which automatically generated tasks are enabled when using the Task Manager
If the task manager is ON in Settings > General > Task Manager, there will be additional options to select which automatically-generated tasks to enable.



By default for new clients, the task manager is off. Once enabled, the Review Inspection Results task is checked by default and the others can be enabled optionally.


For existing clients with the task manager on, all tasks will remain active (checked in the settings) and can be unchecked as preferred.

Clicking the i symbol in settings next to Automatically Generated Tasks leads to an informational panel that includes a link to the following help article: Automatically Generated Tasks



Campaign Manager: Additional options when setting a time interval to send recurring campaigns
Previously, recurring campaigns could be sent every 30, 60, or 90 days. Now, campaigns can be scheduled to send using the following options:
Send every [X] days

Send every [X] weeks

If this option is selected the campaign will send on the same day of the week as the original send date e.g. Tuesdays

Send every [X] months

If this option is selected the campaign will send on the same date of the month as the original send date. Exceptions include if the first campaign was sent on the 31st the following campaigns will adjust to send on the last day of the month even if there is no 31st day of the month
Appointment Reminder Emails and Text Messages: Update to Wording
Appointment reminder email and text messages have been updated to more clearly indicate the recommendations shown in appointment reminders are open recommendations on vehicles rather than the specific services customers scheduled for their visit. The reminders have also been updated to provide a more personal tone.

Example Text Message: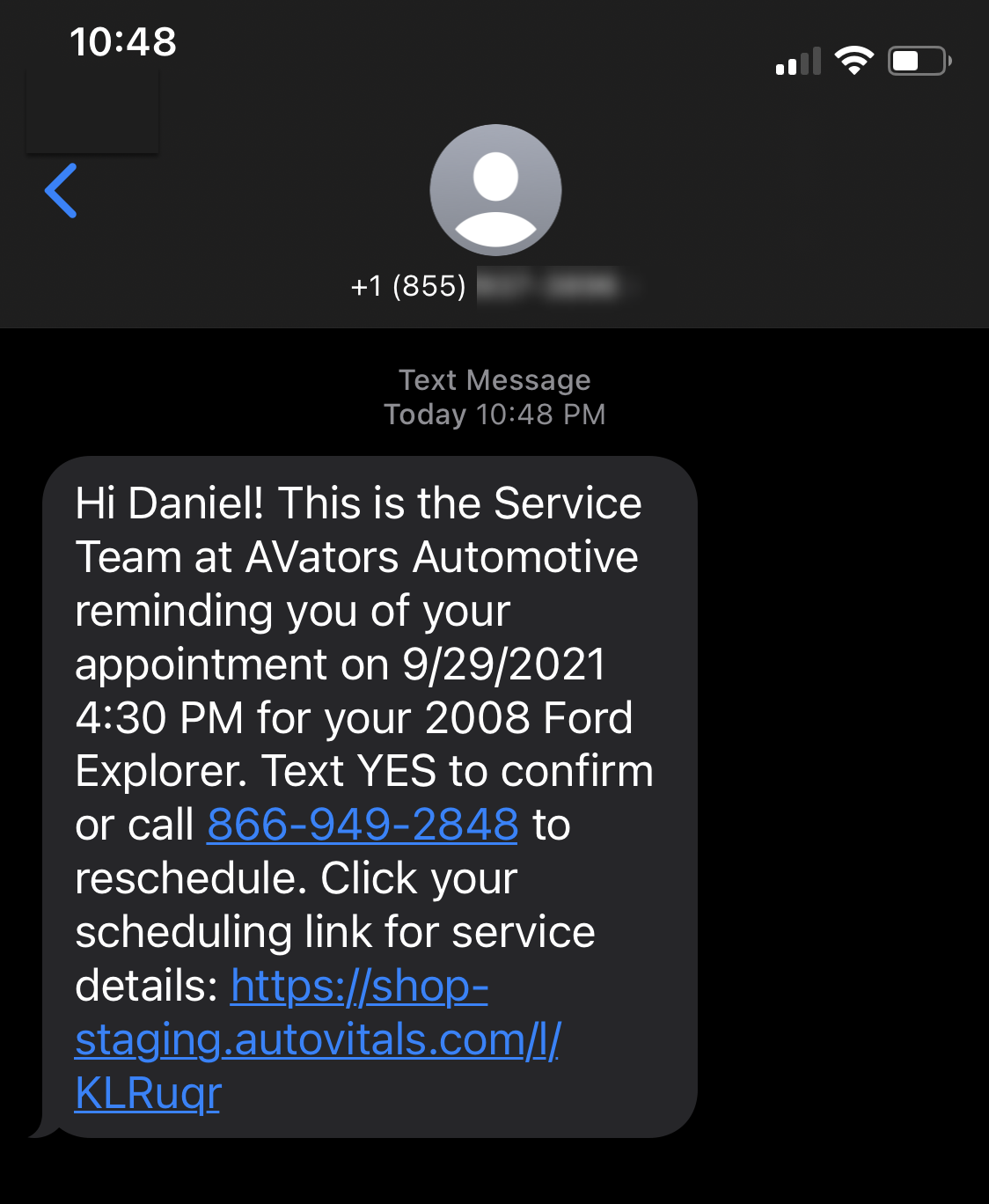 Example Email: