We've made some changes and hope you'll read our release notes below. As always, please contact with any questions you have by email at support@autovitals.com or click here to open a ticket with the team.

Enhancements - What's New?
Appointment Reminder Landing Page
The appointment reminder landing page has been simplified and updated. Customers navigate to their appointment reminder landing page either through a button on their appointment reminder email that states, "See your vehicle's recommended work" or from a link in their appointment reminder text message.
The landing page has been simplified by removing questions for the customer for what work they would like to perform during their upcoming visit since this information has already been gathered at the time the appointment was scheduled. Instead, the landing page reminds them of any open recommendations on their vehicle.

Example Landing Page: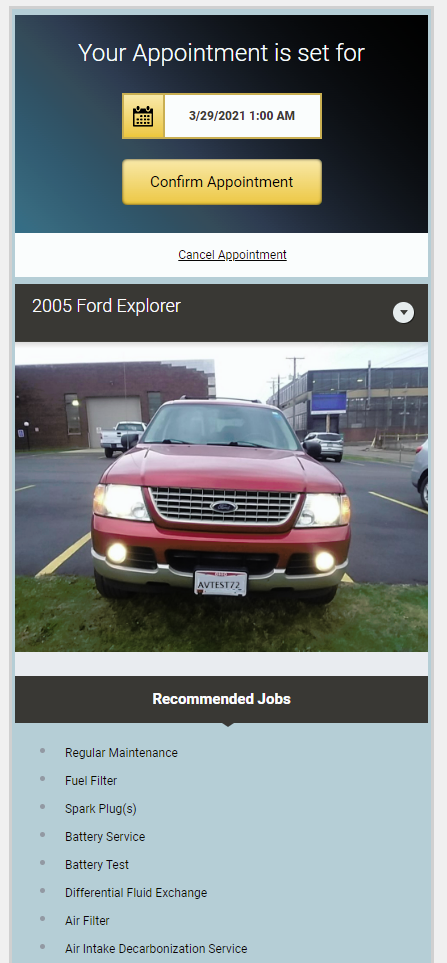 Bug Fixes & Small Changes
When an appointment request is submitted through service reminders, or other campaigns sent through text or email, the customer will receive a note on their confirmation webpage that states, "Please note that the date and time you requested may not be available. We will contact you to confirm your actual appointment details."

The red exclamation point (indicator that there is an unread chat message) on the vehicle tile on the TVP is no longer seen if the service advisor logged into the TVP is not a part of the vehicle chat conversation

Some Business Control Panel KPI Names have been edited to use consistent naming conventions

Update to user interface when submitting a help request with a screenshot