The Digital Workflow is a management solution for the processes, procedures, and events that happen daily within a shop. The key use is to improve shop efficiency and increase AROs.
Table of Contents
Key Benefits
Shop Owner - Ability to track employee hours, declined jobs, ordered parts, and many other KPI's with just a browser

Advisor - Accessibility to delegate work with automation, seamless communication with staff and motorists, and better management of customer expectations

Technician - Boost focus on fixing vehicles as jobs that are ready for work to be performed are displayed automatically on the tablet

Motorist - Consistent service and enhanced trust by tracking service history, vehicle information, appointment reminders and updates plus educational information concerning the motorist's vehicle
Product Features
Configure Workflow Steps

Provide your customers with consistent quality controlled service

Labor Inventory Management

Monitor the shops productivity with the labor inventory management tool and multiple technician progress tracking methods provided

Task Management

A systematic accountability tracker that works to keep everyone up to date with their assigned tasks
Workflow Step Configuration and Features
1. Select the "Workflow" tab
2. Click on the "Workflow Steps" section
3. Choose the "Workflow Steps" tab
General Functionality
Controls the Display name and order of the Workflow Step
Defines visibility of the RO on both the TVP and the Tech's Idle Screen on their tablet

Exclude certain workflow steps from being a part of the aggregated yet-to-be-completed hours



Auto-approve jobs once the RO is moved to that specific workflow step
Auto-approve any new jobs that are added to the RO in that specific workflow step
- Defines the name and position of the workflow step
- Provides additional helpful information concerning the workflow step
Default Workflow Steps
The below picture delineates the default steps provided. All the default steps (including "Waiting for Parts") need to be in this standard order. Any manually created steps can be added in initially or in between the default steps standard order.
How-to Add a New Workflow Step
Click Add New Workflow Step
Name the Workflow

Fill out and mark off any other necessary settings
NOTE: The tablet display is to make the RO visible on the Idle screen. This does not affect the visibility of the RO on the Active Screen.
Navigating through the Workflow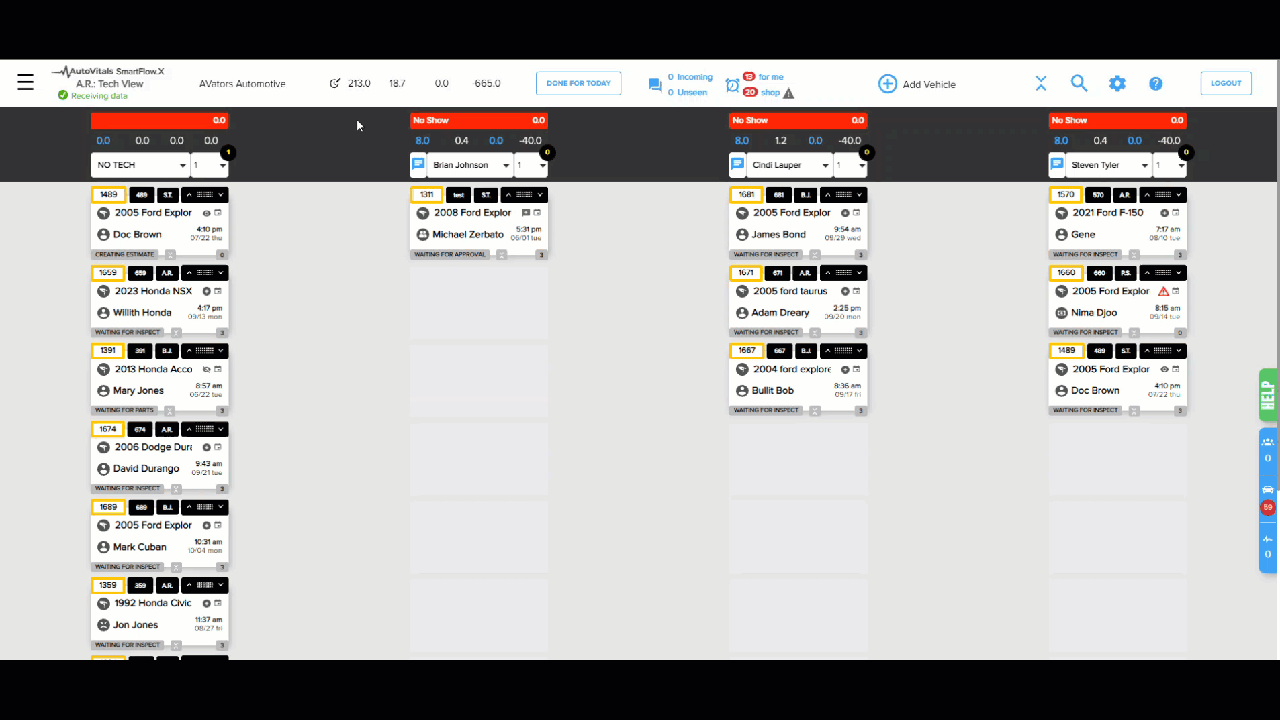 The Workflow View
Easily monitor each RO through the workflow steps to ensure consistent quality controlled service is provided to every motorist.

The gray bar on the bottom left of the tile indicates which technician the RO is assigned to.
Drag and Drop to reassign the technician.
The Tech View
Track each individual technicians progress on all RO's assigned to them and supervise their overall completed billed hours as well as the shop's.

The gray bar on the bottom left of the tile indicates the workflow step the RO is in.
Click to change the workflow step from the drop down menu.
- This column contains RO's that do not have a technician assigned to them
- This column contains RO's that have all assigned work completed by the technician that was assigned
- Tech specific chat
- The technicians labor inventory management log and activity status bar
The TVP Tile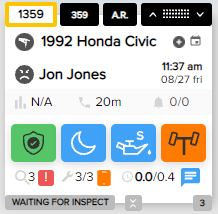 - RO Number
- Key Tay (Can be configured in settings or edited manually on TVP)
- Service Advisors initials
- Drag and drop pad
- Vehicle Info
- Motorist Communication
- Appointment Actions
- Motorist Name
- Promised time vehicle would be returned
- Motorists Research Time
- Countdown timer for Service Advisor to reach out to Motorists
- Smart Marker
- Number of completed inspection topics
- Vehicle specific message alert
- Orange clipboard icon indicates that a technician has an RO open and in progress
- Number of jobs completed / Number of jobs assigned to that specific technician
- Finished billed hours / Total billed hours
- Vehicle specific chat
- Collapse / Expand tile
- Total number of jobs on the RO
The TVP Header

Menu

Page "View"

Shop Name / Column Configuration Template

Clocks out ALL technicians to ensure accurate punch times for end of business day

Add new vehicle

Collapse / Expand tiles

Help Mode

Logout
Frequently Asked Questions
I moved my tile to "Waiting for Parts" and it's supposed to go to the "Not Active" tech column; why is the tile not moving?

The technician still may need to complete any authorized job still on the RO or still may need to submit the inspection sheet for the vehicle. If the RO is still active on the Technician's tablet the RO tile will not move to the "Not Active" tech column.

Why can I not configure the workflow settings? / Why do I not have a workflow page?

Why am I unable to update the gray bar in the bottom left hand side of the RO tile?

This feature is only available with the Smartflow.X product package.

In what case would you recommend a shop exclude hours?

In the event you want to exclude all hours from jobs that are still pending and may not be ready for the tech to work on at the current time.

How do I manually approve a job?

Click the check box next to the appropriate tab in the RO
Go to the appropriate tab in the RO and individually approve jobs
Related Articles
How to Navigate to Shop Settings
How to Use Smart Markers on TVP.X
Customer Communication on TVP.X
The Today's Vehicle Page (TVP) Settings
Using the Search Tool to Streamline Shop Productivity